Cool Past Projects
If you are in the "LAW ENFORCEMENT COMMUNITY" and searching for shadowbox framing please go here...
WWW.BadgeFrame.COM

Shadowbox Related...

Here's some great ideas for your upcoming shadowbox projects.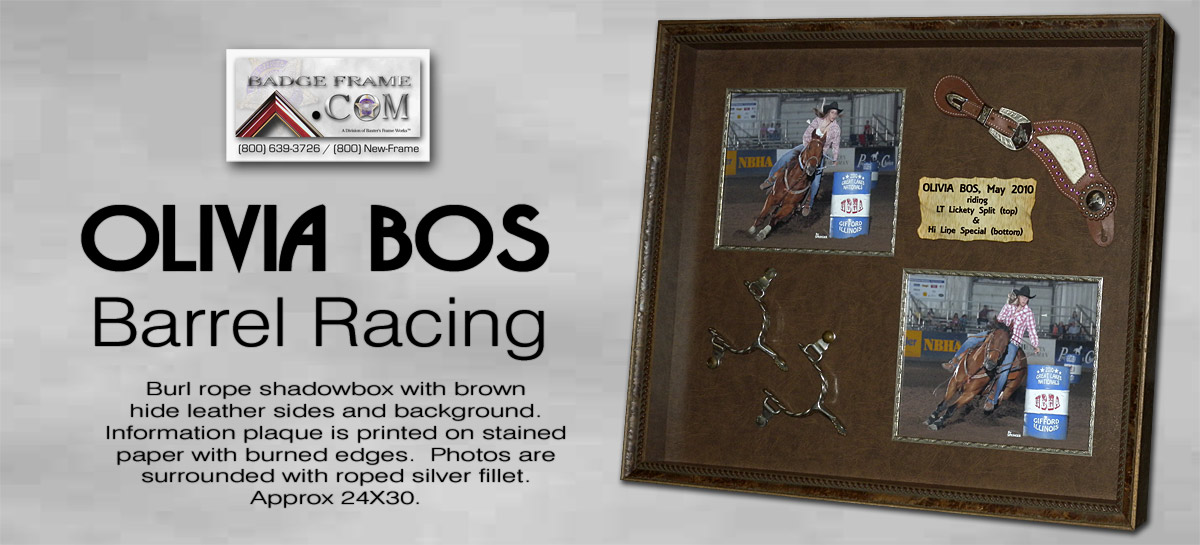 larger image here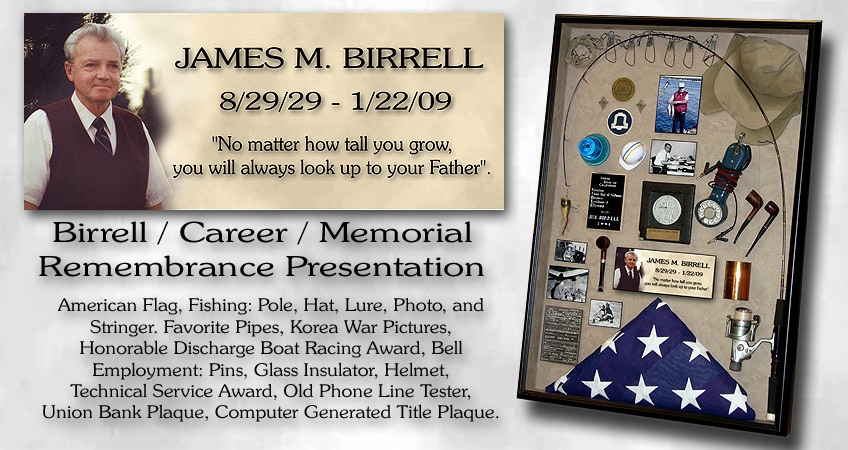 see larger image here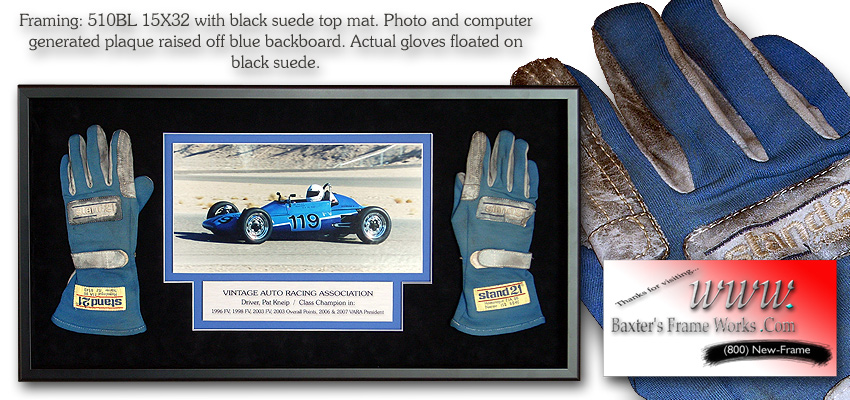 See larger image here...
VARA - Vintage Auto Racing Assoc. actual gloves of driver and past president of VARA Pat Kneip.
Click here to see larger version
Shadowbox of a Police Captain's career. Great batch of memorabilia from 1939 to 1974.
This design incorporated...
2-photos / 3-I.D. cards / 7-badges / 3-rings and other misc. items...
OUTSTANDING & EVERLASTING

Confederate Army Pistol

Gun shadowbox with a 3.5" deep frame and red felt sides & backing. A gold engraved title plaque was raised off the background...and note the custom made acrylic "gun holder" used to support the piece.

OUTSTANDING DISPLAY


Retail $290
Antique Police Memorabilia

Collection of an "honored & remembered" policeman from the past. Wood shadowbox featuring his wares, photo & card. Note the custom gun holders (grip & barrel).

Retail $ 320
Double Mask Shadowbox

This is a 6" deep ornate shadowbox with lined sides and a matching backboard. It features 2 different masks and an engraved plaque "Logan" (the artists name).

Approx. 14 X 26 O.D.

Retail $325
Navy Sword
&
Commendations

Acrylic box design featuring a tribute to a retiring hero.
This box included his sword, dog tags,
medals of honor and a ton of patches.

26" X 42" O.D.

Retail $ 525
"Fortune Cookies"

This was a custom piece done as a "going away present" for a co-worker.
Piece size is approx. 14" X 18" Retail approx. $150
ANTIQUE WAR PISTOLS

A set of two beautiful old war pistols. Shadowbox framing was used on this 4" deep piece with a fabric background & lined sides.

Guns were tied on with old leather straps. Approx. piece size was 18" x 25"

Retail $320



Call us...(800) New-Frame / National Toll Free
3811 Schaefer Ave., Suite A Chino, CA 91710 Local (909) 591-3033
EMAIL: fwbill32@verizon.net
© 2004 Baxter's Frame Works / All Rights Reserved
HEY!!! Don't forget to sign our GUESTBOOK before you bail.